WELCOME to
SANGHA
JOURNEYS
Buddhist Pilgrimages to Tibet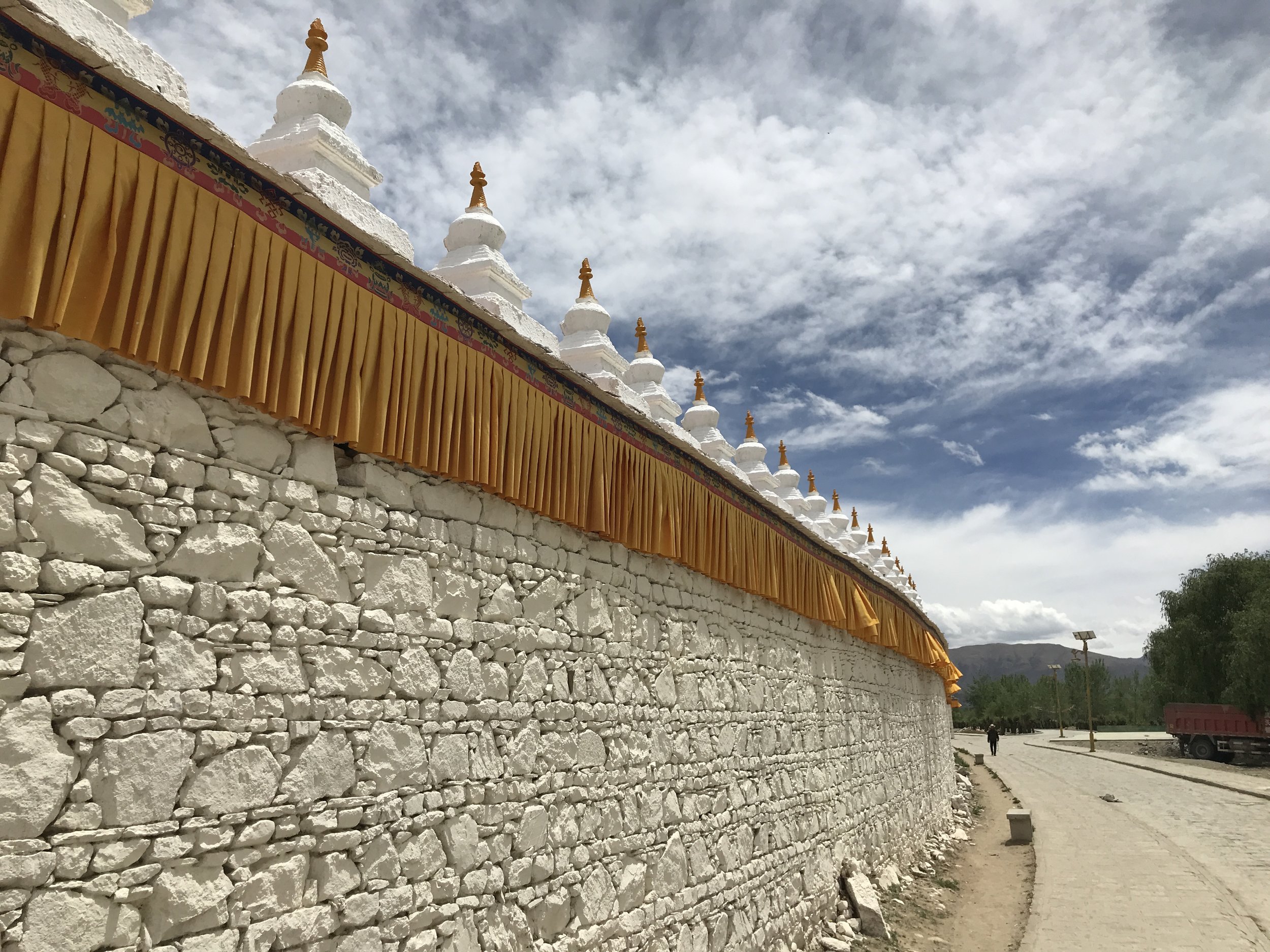 June 23 - July 11, 2019
Pilgrimage to the sacred Land of Guru Rinpoche & Yeshe Tsogyal in Central Tibet
& ThrEe-Day MT. Kailash circumambulation
12 & 19-Day Options with Lama Dechen Yeshe Wangmo
Participants must be Vajrayana practitioners motivated to go on pilgrimage as a profound Vajrayana practice. We are no longer accepting appliactions. Please Join our mailing for pilgrimages in 2020! (bottom right corner)
June 23: Chengdu to Lhasa early morning flight
June 24: Lhasa, visit the Jokhang and Ramoche temples and practice at the Barkhor
June 25: Lhasa visit the Potala or nearby Drak Yerpa
June 26: Drive to Samye along the beautiful banks of the Tsangpo Yarlung river.
June 27: Visit and practice at Samye on Dakini Day
June 28: Hike the famed Chimphu mountain hermitage with the caves of Jigme Lingpa, Yeshe Tsogyal and Longchenpa's reliquary stupa.
June 29: Tsogyal Latso, birthplace of Khandro Yeshe Tsogyal, and meet the nuns. While we visit, a medical team that we are bringing with us will be helping the nuns with their healthcare.
June 30: Experience the wonder of Tsogyal Latso and practice in the new temple we help to build and furnish.
July 1: Last day at Tsogyal Latso and time to return to the nearby sacred springs and Yeshe Tsogyal's birth stupa.
July 2: Visit the home of the Northern Treasures at Dorje Drak and Mindrolling. Then continue to the heavenly Yamdrok Yutso Turquoise Lake and Gyangtse. New Moon, total solar eclipse.
July 3: Visit Pelcho and Kubum Stupa and then continue to the city of Shigatse and visit Shalu Monastery, home of an original Prajnaparamita mural.
July 4: Option to exit Tibet this morning from Shigatse airport or to continue on to Kailash via Saga.
July 5: Reach Darchen at the foot of Kailash and spend some time viewing the inconceivable Manasarover Lake on the way.
July 6: Kailash circumambulation first day (on foot or horseback). A magnificent view of the northern face of Kailash will be right next to you all day. Overnight Drira Puk Monastery. Dalai Lama's birthday.
July 7: Kailash circumambulation second day: reach the Dolma Pass by mid day, make offerings and continue down to overnight at Dzatrul Puk Monastery.
July 8: Kailash circumambulation third day: visit Milarepa's cave and return to Darchen and your hotel.
July 9: Return to Saga.
July 10: Return to Shigatse.
July 11: Shop in Shigatse and leave Tibet from the new Shigatse airport for an afternoon flight to Chengdu. Birth of Guru Rinpoche.
The Vajrayana Path of pilgrimage
Lord Buddha Shakyamuni, Padmasambhava, the Greeks, Mayans, Jesus, and Mohammad have all praised the transformative power of pilgrimage journeys. In Buddhism, it is an excellent method of purification and illumination.
For Western Buddhists, pilgrimage is particularly important because not living in a Buddhist culture, we are in danger of developing a mere intellectual grasp of Dharma rather than absorbing it as a way of life leading to authentic illumination.
—Lama Dechen Yeshe Wangmo
FINDING MANJUSHRI is an award-winning short film about a Tibetan fable of a monk who goes on a life-changing journey to Wutai Shan. The film is in Tibetan with English subtitles.
Pilgrimage undertaken with dedicated exertion purifies negative karma and kleshas.
Pilgrimage accompanied by offerings and prayers leads to wishes fulfilled.
Pilgrimage accompanied by tantric discipline brings the attainment of stable great bliss.
Pilgrimage accompanied by non-conceptual meditation fosters the attainment of supreme accomplishment.